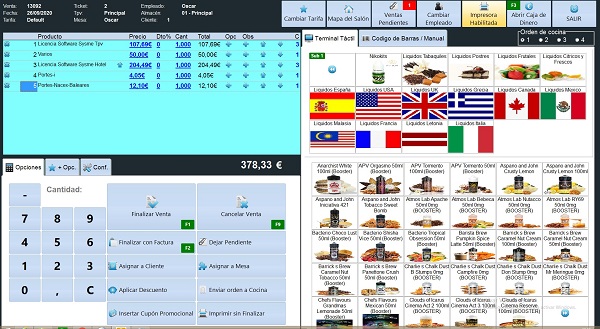 Hello everyone, today we bring you a new update of Sysme Pos with different improvements and corrections that we detail below.
Improvements:
We have expanded the capacity of the ALIAS fields of products and categories to 100 characters.
We add an option to search for products with a timer in the warehouse management (entry of products and delivery notes, transfers and inventory), with this option the user will be able to decide if the program should search in each keystroke (which is how it has been working since always) or wait half a second after the last press … this last option is very useful with large databases since it avoids overload and the result is faster.
We add the TIME field in the inventories, this is useful for when a user with privileges manually changes the stock value of a product in their file, previously only the date was saved, now the exact time was also saved.
In relation to the previous point, we add a user privilege that will allow or not to change the stock value of a product from its file.
We add an option to decide if a computer should manage the impressions of the orders received from Sysme Pos Mobile or not, this gives a solution to a common problem in installations of several computers in which the computers worked with a single network, all computers of The network received mobile orders and double impressions were produced (not always, but there was a possibility) creating confusion, with this improvement the user will be able to decide which computer is responsible for printing the orders.
We add an option to allow or not the sale of products without stock, until now Sysme Pos has always allowed the sale without stock, now the user can decide whether to do it or not
Fixes:
Table names on Linux servers: As you all know, Sysme Pos is a Pos software for Windows, however many users decide to keep the database separate on Linux / Unix servers for stability, security and connectivity (because they normally use it in data centers ), Linux is sensitive to table names and is case sensitive, at Sysme we had a few problems with this and we have fixed it in this version.
User privileges, access button to CATALOG: With the situation of this 2020 of the Covid we launched in the previous version the possibility of give customers access to the catalog by a QR code, this we did in a hurry and we made a small mistake for which it was impossible to give access privileges to a certain user to this button .. we have corrected this issue in the current version.
Product image: We corrected a malfunction in the product sheet whereby when we added a new product without returning to the list, the image of the previous product prevailed causing confusion.
Upgrade:
As always the update process is the same:
Make a backup of the entire C: \ SYSME \ directory (important)
Download the installation file from https://www.sysme.net/apz/sysmetpv.exe
Run the installer and in the 5th step disable the complete installation option (important)